Each year during Engineers Week the prestigious Washington Award is conferred upon an engineer(s) whose professional attainments have preeminently advanced the welfare of human kind. Presentation of the award is made at a joint banquet of the members and guests of the Western Society of Engineers; the American Institute of Mining, Metallurgical and Petroleum Engineers; American Society of Civil Engineers; American Society of Mechanical Engineers; Institute of Electrical and Electronic Engineers; National Society of Professional Engineers; and the American Nuclear Society.
Click here for an invitation/registration form for this year's event.
---
Washington Award Commission
John W. Alvord, a past president of the Western Society of Engineers, in 1916 created an honorary award to recognize the "devoted, unselfish, and preeminent service in advancing human progress." It was named the Washington Award as a reminder that the nation's first president was an engineer. The elected commission of the award is made up of representatives from Western Society and six other engineering societies. It is conferred annually upon an engineer whose professional attainments have advanced the welfare of all peoples.
Previous Honorees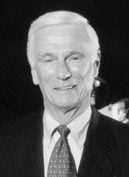 2003 Washington Award recipient Eugene Cernan.
The Washington Award is one of the country's oldest and most prestigious engineering awards in the country. The list of recipients speaks for itself. A few of the honorees from 1919-2007 include:
Herbert Hoover, 1919
Orville Wright, 1927
Charles F. Kettering, 1936
Henry Ford, 1944
Lillian Moller Gilbreth, 1954
H.G. Rickover, 1970
Dixy Lee Ray, 1978
Neil Armstrong, 1980
Stephen D. Bechtel, 1985
John H. Sununu, 1990
Wilson Greatbatch, 1996
Donna Lee Shirley, 2000
Dan Bricklin, 2001
Bob Frankston, 2001
Richard J. Robbins 2002
Eugene Cernan 2003
Nick Holonyak 2004
Robert S. Langer 2005
Henry Petroski 2006
Michael J. Birck 2007
Dean Kamen, 2008
Clyde Baker, 2009
Alvy Ray Smith, 2010
Administrator of Commission
The Western Society of Engineers, a multi-discipline engineering society serving engineers and firms that employ engineers in the Chicagoland area, administers the Washington Award. WSE was founded in 1869, when Chicago was the country's western frontier.
The Western Society of Engineers is a multi-discipline engineering society, whose purpose is to actively encourage the development of engineering leaders and promote engineering excellence and innovation; educate the general public regarding the practice of engineering; recognize the achievements of the member engineers; and promote high professional and ethical standards.
---